How a Smart Built-In Pyrolytic Oven Will Change Your Life
Posted by Linärie Appliances on
Choosing a new built-in oven requires careful consideration of your cooking needs, available space, and budget. By taking the time to research and compare different options, you can find an oven that meets your needs and fits within your budget.
This article explains what the pyrolytic oven is, its benefits and why when selecting the right one with the technical features that fit with your lifestyle, it will change your life.
What is an Electric Built-in Pyrolytic (Self-Cleaning) Oven? 
An electric built-in pyrolytic self-cleaning oven is a type of oven that uses a high-temperature cleaning process to burn off food residue and grease, resulting in a clean and hygienic oven interior.
Key Features: Choosing the Right Features of Your Next Electric Built-in Pyrolytic Oven
Electric Built-in Pyrolytic Ovens can come with a range of features, depending on the model and brand. Here are some key features to look for:
Self-cleaning function: Pyrolytic ovens have a self-cleaning function that heats the oven to high temperatures to burn off any food residue and grease. This makes it easy to keep the oven clean without the need for harsh cleaning chemicals.

Multiple cooking modes: Most pyrolytic ovens come with multiple cooking modes, such as bake, roast, broil, convection, and more. This allows you to cook a wide variety of dishes and achieve the desired results.

Convection fan: A convection fan helps to circulate the hot air inside the oven, resulting in more even cooking and faster cooking times.
Temperature probe: Some ovens come with a temperature probe that allows you to monitor the internal temperature of your food, ensuring it is cooked to perfection.

Built-in meat thermometer: Some ovens also have a built-in meat thermometer that can be used to monitor the internal temperature of meat while it's cooking.

Touchscreen or digital display: Many modern pyrolytic ovens have a touchscreen or digital display that allows you to easily set the cooking mode, temperature, and cooking time.
Delay-start: A delay start function allows you to program the oven to start cooking at a later time, which is useful if you want to have a meal ready when you get home.

Safety features: Look for ovens with safety features such as child locks, automatic shut-off, and cool-touch doors to prevent accidents and injuries.

Energy efficiency: Choose an oven with a high energy efficiency rating to help reduce your energy bills.
Design and style: Pyrolytic ovens come in a variety of styles and designs, so you can choose one that matches the look of your kitchen. Look for features like a large viewing window, interior lighting, and a sleek design.
Overall, electric built-in pyrolytic self-cleaning ovens are popular among homeowners and professional chefs because they offer a convenient and efficient way to keep the oven interior clean and hygienic. The self-cleaning function eliminates the need for harsh chemical cleaners or manual scrubbing, saving time and effort. These ovens also offer a range of other features, including multiple cooking modes, temperature probes, digital displays, and programmable timers, which make them versatile and easy to use for a wide variety of cooking tasks.
INSTALLATION
Download the User Manual & SpecSheet HERE
Watch the full video on how to the pyrolytic cleaning process works HERE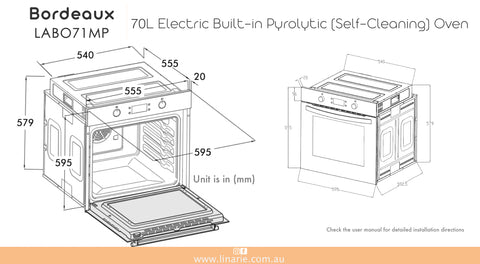 Shop Bordeaux Electric Built-in Pyrolytic Oven Self-Cleaning LABO71MPX
Bottom Line
This article aims to answer your questions about electric built-in pyrolytic self-cleaning oven. If you're looking to buy a retro wine fridge, check out the range of premium electric built-in pyrolytic self-cleaning oven available on Linärie Appliances. We provide eye-catching aesthetics with high-performance technology retro fridges with 30-month warranty and various appliances to elevate your kitchen.

Looking to Speak with our Product Expert?
Pick a suitable time HERE for our product expert to give you a ring.

30-Month Manufacturer's Warranty
A 24-month parts and labour Manufacturer's warranty is included, giving you that extra peace of mind. Extend your warranty to 30-month when you register your product HERE.

About Linärie Appliances
Powered by innovative technology that combines premium quality with affordability, Linärie Appliances seamlessly integrates cutting-edge technology and French-inspired elegant designs, to elevate comfort in your kitchen and transform your cooking experience into memorable moments. Delivering anywhere in Äustralia.
---
0 comments