Wine Fridges: What Features to Look for When Selecting the Right One
Posted by Linärie Appliances on
Your collection deserves to be stored in a wine fridge. Wine fridges keep your bottles organized and horizontal storage is proven to be better for the wine, as it keeps the corks moist and ensures minimal air sees into the bottle.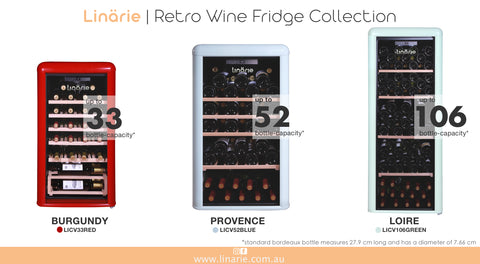 When selecting a wine fridge, there are several features you should consider. These include:
1. Determine your budget:
Wine fridges come in a range of prices, and it's essential to find one that offers the features you need at a price that suits your budget. . Set a budget before you start shopping to help you narrow down your options.
2. Determine the size and capacity: Consider the number of bottles you plan to store and the available space in your home. Decide on the size of the wine fridge that can accommodate your collection and fit into your space.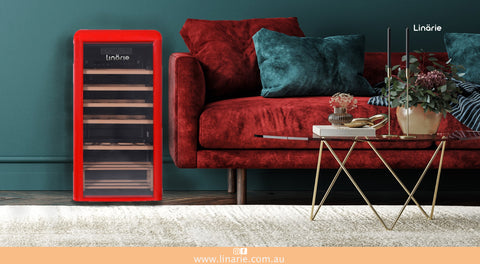 Shop Retro Wine Fridges
3. Choose the type of wine fridge: There are two types of wine fridges, thermoelectric and compressor. Thermoelectric wine coolers are generally smaller, quieter, and consume less energy, while compressor wine coolers are better suited for larger collections and offer better cooling performance.

4. Temperature Range: The temperature range of the wine fridge should be appropriate for the types of wine you plan to store. Most wine fridges have a temperature range between 4-18°C. Different types of wines require different temperature ranges for storage. Most wine fridges come with adjustable temperature.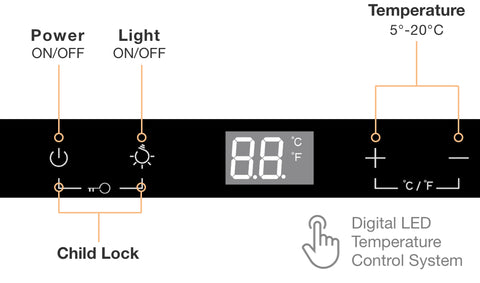 Shop Retro Wine Fridges
Sommelier Pro Tip :: Temperature Zones
If you plan to store both red and white wines, look for a wine fridge with two temperature zones. Dual-zone wine fridges allow you to set different temperatures for each zone, ensuring that both red and white wines are stored at their optimal temperature.

5. Door Type: The type of door can affect the wine fridge's insulation and energy efficiency. Look for wine fridges with double-pane or tempered glass doors with UV protection.

6. Shelving: The shelving in the wine fridge should be sturdy, adjustable, and designed to accommodate different bottle sizes and shapes.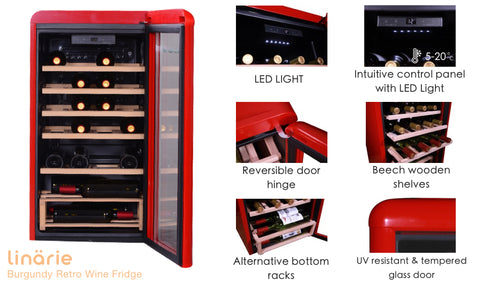 Shop Retro Wine Fridges
7. Noise Level: If the wine fridge will be located in a living space or close to bedrooms, look for a model with a low noise level.

8. Look for additional features: Features like adjustable shelves, digital temperature display, lockable doors, and UV protection can be helpful in keeping your wine in optimal conditions.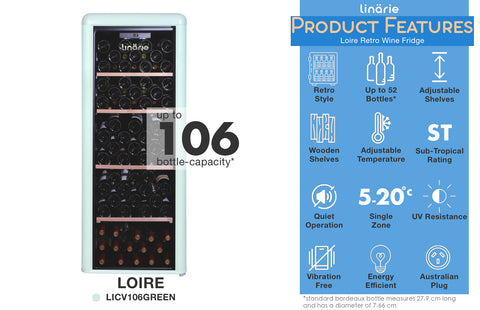 Shop Retro Wine Fridges
9. Energy Efficiency: Look for a wine fridge with an Energy Star rating to ensure it is energy efficient and will help to save on energy costs.

10. Read reviews: Check reviews and ratings of the wine fridge you are considering to get an idea of its performance, reliability, and durability.
11. Check the warranty and customer service: Make sure the wine fridge you choose comes with a warranty and good customer service in case of any issues or repairs needed.
Overall, a wine fridge is an excellent investment for wine enthusiasts who want to preserve their wine collection's quality, taste, and aroma. It also provides a convenient and accessible storage solution that helps to save space and adds an aesthetic value to your home.
By following these steps, you can find a wine fridge that fits your budget, storage needs, and personal preferences. By considering these features, you can choose a wine fridge that best meets your wine storage needs and budget.
INSTALLATION
Download the User Manual & SpecSheet HERE

Bottom Line
This article aims to answer your questions about single zone retro wine fridges fridges. If you're looking to buy a retro wine fridge, check out the range of premium quality retro wine fridges available on Linärie Appliances. We provide eye-catching aesthetics with high-performance technology retro fridges with 30-month warranty and various appliances to elevate your kitchen.
Looking to Speak with our Product Expert?
Pick a suitable time HERE for our product expert to give you a ring.
30-Month Manufacturer's Warranty
A 24-month parts and labour Manufacturer's warranty is included, giving you that extra peace of mind. Extend your warranty to 30-month when you register your product HERE.
About Linärie Appliances
Powered by innovative technology that combines premium quality with affordability, Linärie Appliances seamlessly integrates cutting-edge technology and French-inspired elegant designs, to elevate comfort in your kitchen and transform your cooking experience into memorable moments. Delivering anywhere in Äustralia.
---
0 comments