Wine Fridge: 6 Steps to Set it Up
Posted by Linärie Appliances on
A properly set up wine fridge means you will always have a perfectly chilled bottle of wine at your fingertips. The good news is that you will find that using a wine fridge is relatively straightforward, and the steps are as follows:
1. Unpack and Inspect the Wine Fridge: After receiving your wine fridge, unpack it and inspect it for any damages or defects.
2. Select a Location: Choose a location for your wine fridge that is away from direct sunlight and heat sources, such as radiators or ovens. Ideally, the location should be well-ventilated to ensure that the wine fridge operates efficiently.
3. Install the Wine Fridge: Follow the manufacturer's instructions to install the wine fridge. Feel free to download the latest digital version of the User Manual & SpecSheet HERE. This usually involves attaching the door handle, adjusting the shelving, and plugging it into a power source.
4. Set the Temperature: Set the temperature to the desired range using the digital control panel.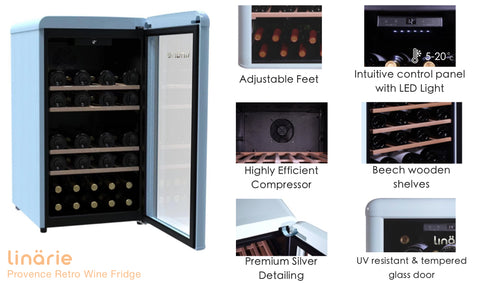 5. Organize Your Wine Collection: Arrange your wine collection on the shelves, ensuring that the bottles are stored horizontally, and the labels are visible.
6. Monitor the Temperature and Humidity: Monitor the temperature and humidity levels regularly to ensure that they remain within the appropriate range. If you notice any fluctuations or changes in the temperature or humidity, adjust the settings as needed.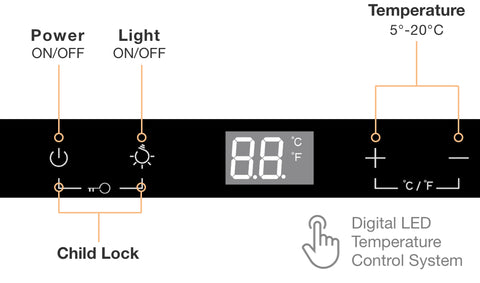 Pro Maintenance Tip
Regularly clean the wine fridge, including the shelves and door gaskets, using a mild detergent and water. Wipe down the exterior of the wine fridge with a damp cloth and dry it with a clean towel.
By following these steps, you can use your wine fridge to store and preserve your wine collection effectively, making the most out of it.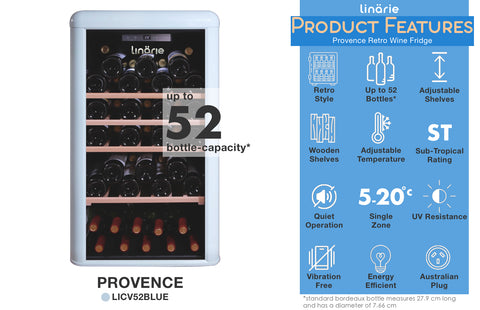 INSTALLATION
Download the User Manual & SpecSheet HERE


Bottom Line
This article aims to answer your questions about single zone retro wine fridges. If you're looking to buy a retro wine fridge, check out the range of premium quality retro wine fridges available on Linärie Appliances. We provide eye-catching aesthetics with high-performance technology retro fridges with 30-month warranty and various appliances to elevate your kitchen.
Looking to Speak with our Product Expert?
Pick a suitable time HERE for our product expert to give you a ring.
30-Month Manufacturer's Warranty
A 24-month parts and labour Manufacturer's warranty is included, giving you that extra peace of mind. Extend your warranty to 30-month when you register your product HERE.
About Linärie Appliances
Powered by innovative technology that combines premium quality with affordability, Linärie Appliances seamlessly integrates cutting-edge technology and French-inspired elegant designs, to elevate comfort in your kitchen and transform your cooking experience into memorable moments. Delivering anywhere in Äustralia.
---
0 comments