Tips on How to Optimize the Internal Space of Your Single Zone Wine Fridge
Posted by Linärie Appliances on
Your collection deserves to be properly stored in a wine fridge.
Organizing the wine bottles inside a wine fridge is important to ensure that the bottles are stored correctly and to make it easy to locate specific bottles. Here are some tips for organizing your wine bottles inside a wine fridge, making the most out of the available space:
Choose the Right Size: Choose a wine fridge that is the appropriate size for your wine collection. If you have a large collection, opt for a larger wine fridge, and if you have a smaller collection, choose a smaller wine fridge.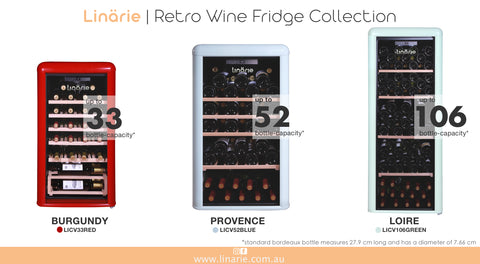 Sort by Type: Organize your wine bottles by type, such as red, white, sparkling, and rosé. This will help you quickly locate the type of wine you want to drink.
Sort by Varietal: Within each type of wine, sort the bottles by varietal. For example, if you have several bottles of red wine, organize them by varietals like Cabernet Sauvignon, Merlot, Pinot Noir, etc.
Sort by Age: If you have a collection of wine with different aging requirements, consider organizing your bottles by age. Store younger wines towards the front of the shelves for easier access and the older wines towards the back.
Store Horizontally: Store your wine bottles horizontally to keep the corks moist and to prevent air from entering the bottle. This will help to preserve the quality of the wine.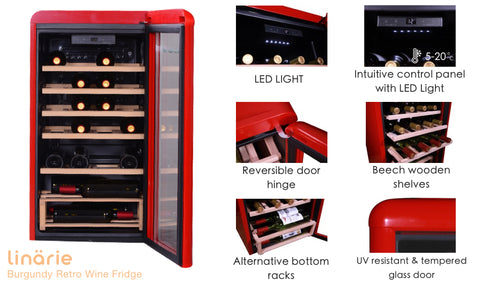 Leave Space Between Bottles: Leave space between bottles to ensure that they do not touch and to allow for air circulation. This will help to maintain the appropriate temperature and humidity levels in the wine fridge.
Internal Space Optimization Tip
• Stack Bottles: If you have bottles of the same type and vintage, consider stacking them to save space. However, be careful not to stack bottles too high, as this can cause damage to the bottles and labels.
• Store Unopened Boxes: If you have unopened wine boxes, consider storing them in the wine fridge to save space. This is especially useful for larger wine boxes or cases.
 Adjust Shelving: Use the appropriate shelving to accommodate the different bottle sizes and shapes. Linärie's wine fridges have adjustable shelves that can be moved to accommodate different-sized bottles. Adjust the shelving to maximize the use of the internal space of the wine fridge. 
Internal Space Optimization Tip
• Use Wine Racks: Consider using wine racks to store your wine bottles, which can be stacked and stored vertically to save space. Wine racks also allow you to store bottles in a way that is easily accessible and organized.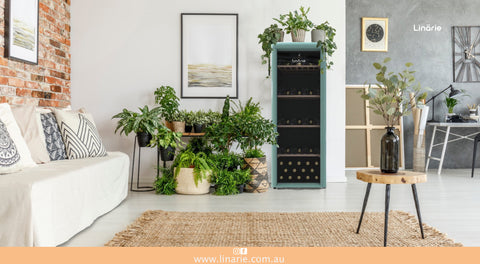 By organizing your wine bottles inside the wine fridge, you can ensure that they are stored correctly and that they remain in optimal condition.
By utilizing these tips, you can optimize the internal space of your wine fridge, making the most out of the available space and storing your wine collection in an efficient and organized way.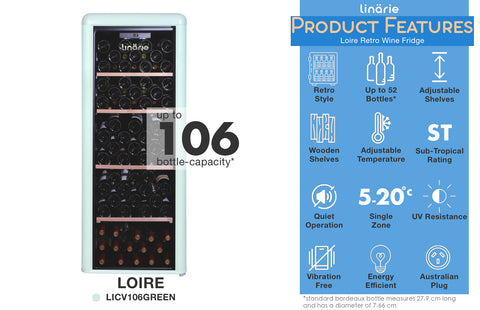 INSTALLATION
Download the User Manual & SpecSheet HERE
Bottom Line
This article aims to answer your questions about single zone retro wine fridges. If you're looking to buy a retro wine fridge, check out the range of premium quality retro wine fridges available on Linärie Appliances. We provide eye-catching aesthetics with high-performance technology retro fridges with 30-month warranty and various appliances to elevate your kitchen.
Looking to Speak with our Product Expert?
Pick a suitable time HERE for our product expert to give you a ring.
30-Month Manufacturer's Warranty
A 24-month parts and labour Manufacturer's warranty is included, giving you that extra peace of mind. Extend your warranty to 30-month when you register your product HERE.
About Linärie Appliances
Powered by innovative technology that combines premium quality with affordability, Linärie Appliances seamlessly integrates cutting-edge technology and French-inspired elegant designs, to elevate comfort in your kitchen and transform your cooking experience into memorable moments. Delivering anywhere in Äustralia.
---
0 comments