6 Reasons Why You Should Get a Single Zone Retro Wine Fridges
Posted by Linärie Appliances on
A retro wine fridge is a type of wine refrigerator that is designed to have a vintage or classic look that harkens back to a bygone era. These wine fridges often feature design elements that are reminiscent of the 1950s or 1960s—with round edges and a colorful, retro-inspired appearance—with all the functionalities of a modern wine fridge. 
In terms of functionality, retro wine fridges are similar to other types of wine refrigerators. They are designed to store and age wine at a consistent temperature and humidity level, ensuring that the wine is kept in optimal conditions for long-term storage. Retro wine fridges can come in single or dual-zone configurations, and they can range in size from small countertop models that hold a few bottles to larger freestanding units that can hold dozens of bottles.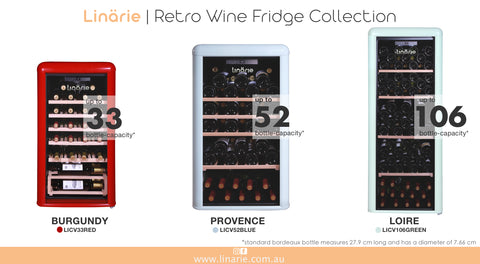 Your collection deserves to be stored in a wine fridge. Wine fridges keep your bottles organized and horizontal storage is proven to be better for the wine, as it keeps the corks moist and ensures minimal air sees into the bottle.
Wine fridges have several advantages, including:
1. Consistent Temperature: Wine fridges help to maintain a consistent temperature for your wine collection, which is essential for preserving the quality, aroma, and taste of the wine. Most wine fridges have an adjustable thermostat that allows you to set the temperature to the optimal range for your wine collection.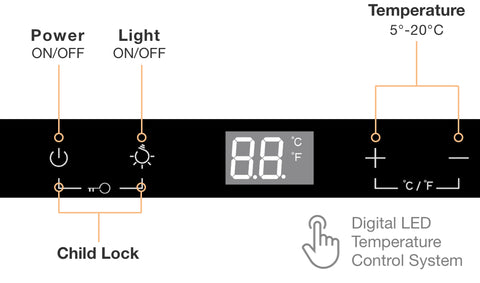 2. Protection from Light and UV Rays: Wine fridges usually have tinted or tempered glass doors that protect the wine from harmful UV rays and light that can degrade the wine's flavor and quality.
3. Humidity Control: Wine fridges help to regulate humidity levels, which is crucial for preserving the corks and preventing them from drying out or cracking. This helps to maintain an airtight seal and prevent air from entering the bottle and spoiling the wine.
4. Convenience: A wine fridge provides a convenient and accessible storage solution for your wine collection, especially if you are an avid wine collector. You can organize and store your wine collection in a way that is easy to access and identify.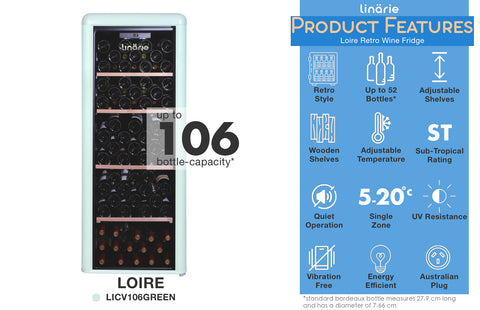 5. Saves Space: A wine fridge is usually designed to fit into a small space, making it ideal for those who have limited space for a wine cellar or wine storage cabinet.
6. Adds Aesthetic Value: Wine fridges come in various sizes, styles, and designs that can add an aesthetic value to your home. You can choose a wine fridge that matches your décor and style preferences.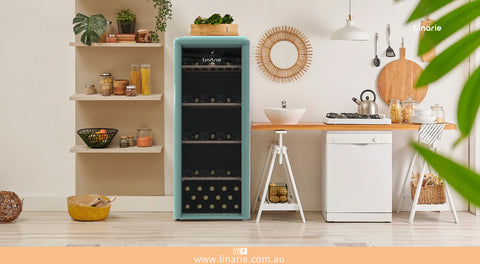 Overall, a wine fridge is an excellent investment for wine enthusiasts who want to preserve their wine collection's quality, taste, and aroma. It also provides a convenient and accessible storage solution that helps to save space and adds an aesthetic value to your home. 
INSTALLATION
Download the User Manual & SpecSheet HERE
Bottom Line
This article aims to answer your questions about single zone retro wine fridges. If you're looking to buy a retro wine fridge, check out the range of premium quality retro wine fridges available on Linärie Appliances. We provide eye-catching aesthetics with high-performance technology retro fridges with 30-month warranty and various appliances to elevate your kitchen.
Looking to Speak with our Product Expert?
Pick a suitable time HERE for our product expert to give you a ring.
30-Month Manufacturer's Warranty
A 24-month parts and labour Manufacturer's warranty is included, giving you that extra peace of mind. Extend your warranty to 30-month when you register your product HERE.
About Linärie Appliances
Powered by innovative technology that combines premium quality with affordability, Linärie Appliances seamlessly integrates cutting-edge technology and French-inspired elegant designs, to elevate comfort in your kitchen and transform your cooking experience into memorable moments. Delivering anywhere in Äustralia.
---
0 comments