Best Downdraft Rangehood for Island Kitchens in 2023
Posted by Linärie Appliances on
In 2023, island kitchens are increasingly trendy in modern homes and kitchen renovations. Located away from any nearby wall and in the center of the room, island rangehoods, downdrafts, and cooktops with integrated air extraction system are the suitable appliances for most standard island configurations.
 
When style and performance meet, you get Linärie's Marseille (RAHP6X & RAHP9X) downdraft rangehood giving you the freedom to install it in various kitchen set up.
What Is a Downdraft Extractor?
A downdraft extractor is a rangehood that is unobtrusively placed under your kitchen benchtop while optimizing space, so that you can conveniently raise and activate it at the touch of your fingertips when needed and slide it down once you've finished cooking.  When in use, the extractor rises approximately 30-40cm out of the benchtop surface to extract the fumes over the cooktop. Typically seen in kitchen islands, the downdraft can also be architected into a run of cabinet if you have enough space between the cooktop and the wall.
Best Downdraft Rangehood for Island Kitchens in 2023
Best Technical & Design Features
Space Saving & Easy Installation: Unobtrusively placed under your kitchen countertop while optimizing space, with the best ergonomics so that it can seamlessly integrate into your kitchen
Downdraft System: Conveniently raise and activate it at the touch of your fingertips when needed and slide it down once you've finished cooking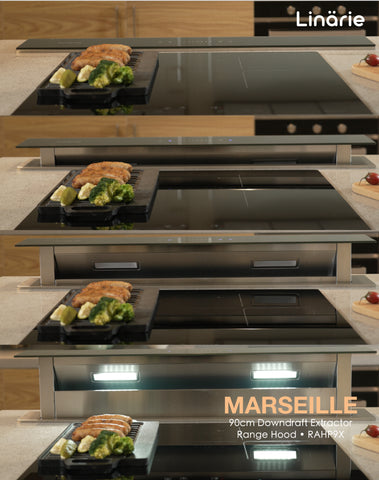 Product Dimensions & Weight
Marseille 60cm
• RAHP6X
Dimensions: 60 (W) x 11.5 (D) x 105.3 (H) mm
Weight: 23.5kg
Marseille 90cm 
• RAHP9X
Dimensions: 90 (W) x 11.5 (D) x 105.3 (H) mm
Weight: 29.5kg
Installation
 INSTALLATION TIP
Ducting accessories for this product are NOT included and should be purchased separately.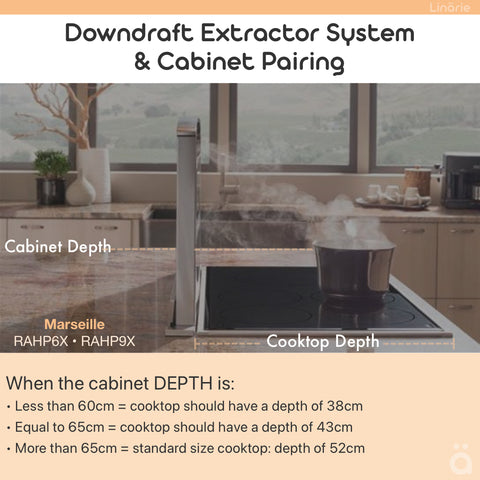 Shop Marseille 90/60cm Downdraft Extractor Range Hood • RAHP9X/RAHP6X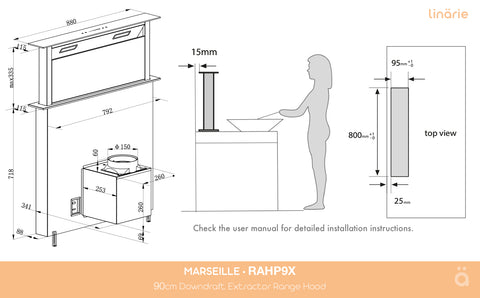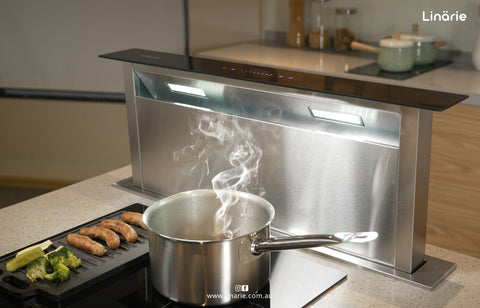 Bottom Line
This article aims to answer your questions about portable dishwasher. You can buy Canopy, Angled, Island, and Downdraft rangehoods on Linärie Appliances. We provide eye-catching aesthetics with high-performance rangehoods and cooktops with 30-month warranty and various appliances to elevate your kitchen.
Looking to Speak with our Product Expert?
Pick a suitable time HERE for our product expert to give you a ring.
30-Month Manufacturer's Warranty
A 24-month parts and labour Manufacturer's warranty is included, giving you that extra peace of mind. Extend your warranty to 30-month when you register your product HERE.
About Linärie Appliances
Powered by innovative technology that combines premium quality with affordability, Linärie Appliances seamlessly integrates cutting-edge technology and French-inspired elegant designs, to elevate comfort in your kitchen and transform your cooking experience into memorable moments. Delivering anywhere in Äustralia.
---
0 comments