Best Portable Benchtop Dishwasher for Small Kitchens in 2023
Posted by Linärie Appliances on
What is a portable benchtop dishwasher?
A portable benchtop dishwasher is a compact dishwasher that offers a small footprint.  Designed to be placed on a kitchen counter or tabletop, and a plumber-free installation, portable dishwashers are ideal for smaller households that don't produce a full load of dishes, and they also usually cost much less than traditional machines.
Dishwashers is a convenient way to clean up after a meal and can also save a considerable amount of water compared to washing dishes by hand. 
DID YOU KNOW: Hand washing dishes can use up to 5 times as much water as an efficient dishwasher, and 3.5 times more water as an average dishwasher. Gavarnie uses an average of 4.6L of water consumed per cycle.

Portable benchtop dishwashers are typically smaller than standard dishwashers, and particularly convenient for those who don't have room for a full-size dishwasher or who want to be able to wash dishes in small sized apartments, dorms, office, camping, boats, vacation home or an RV.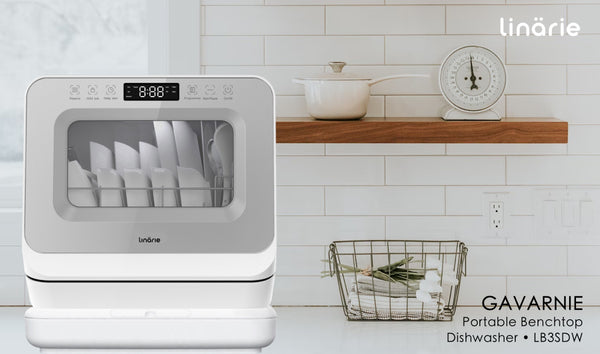 Product Features & Key Considerations
Download the Manual & SpecSheet for technical details
Compact & Portable Design
• Increasing the convenience of your life with 3 place-setting capacity; meeting your cleaning needs whenever, wherever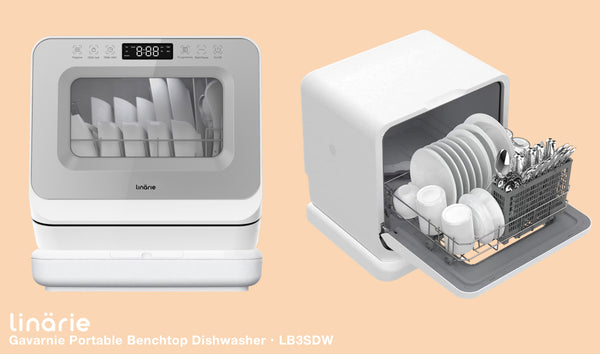 2 water Supply Modes
• No installation is required when you use the Manual Mode-equipped with a 7.5L built-in water tank so that you fill it for immediate use. Faucet Mode available with the accessories needed for the utmost portability.

360° Cleaning System

• Equipped with 360° dual high water pressure system, lower and upper spray arms, and 21 water ports, giving dishes that streak-free deep cleaning. Capable of cleaning tableware, fruits and vegetables, and also use the drying function after cleaning to keep tableware dry and tasteless.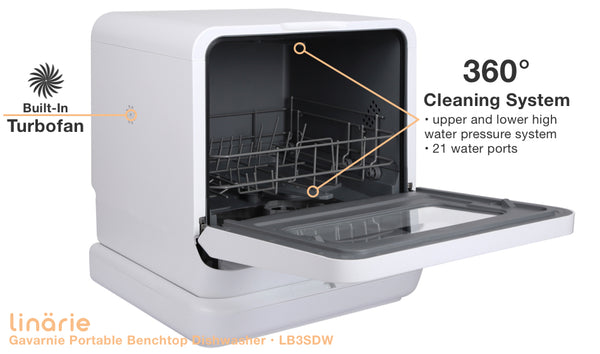 6 Multi-Wash Programs to Meet all of your Cleaning Needs
Wash Cycles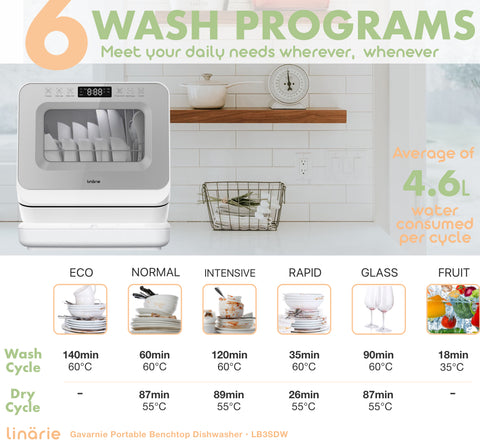 INTENSIVE: Use the heavy cycle for deep-cleaning of excessively dirty dishes or hard-to-clean dishes
Wash Cycle (120min | ~70°C)
Dry Cycle (89min | ~55°C) 
High-w
ashing t
emperature of up to 
70
℃ 
and PTC Drying System deliver a sterilization

 rate of 99.99%, making it

 suitable for baby products
.
NORMAL: For regular, day-to-day use, the normal cycle should be your go-to
Wash Cycle (60min | ~60°C)
Dry Cycle (87min | ~55°C)
ECO:
The energy-saver cycle is an eco-friendly, low-water cycle
Wash Cycle (140min | ~60°C)
Dry Cycle N/A
GLASS: 
Use this cycle for washing china or glassware
Wash Cycle (90min | ~60°C)
Dry Cycle (87min | ~55°C)
RAPID: 
Use this cycle to run a quick load
Wash Cycle (35min | ~60°C)
Dry Cycle (26min | ~55°C)
FRUIT CLEANING:
Use this cycle to gently remove pesticide residue
Wash Cycle (18min | ~35°C)
Dry Cycle N/A
Detergents: Washing tablets

, 

l

iquid or 

p

owder

 d

etergents are all acceptable and it's recommended to only use detergent tablets when running long cycles so the tablets fully dissolve

.
Dry Cycle
• Equipped with PTC Drying System, Gavarnie Portable Benchtop Dishwasher LB3SDW allows you to dry your dishes conveniently and quickly when you do not want or have time to wait for dishes to air dry.

24H Preservation Function
• The PTC Drying System automatically turns on every 3 hours and makes the dish load dry and fresh.
Turbofan & Fresh Smell
• The extra built-in turbofan lets out the steam while helping to circulate the air to ensure fresh smell and quickly drying your dishes, efficiently delivering cabinet-ready dishes.

3 Place-Setting Capacity
• Small footprint appliance, ideal for small-sized houses, apartments, offices, dorms, boats, and campers/RVs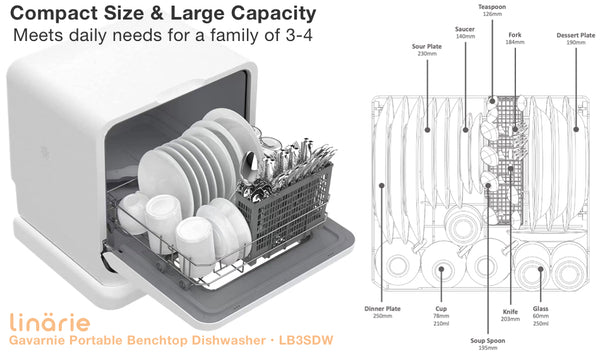 TECHNICAL FEATURES
Function Keys
• Precisely select different modes via the adjustable digital touch LED panel while having full visibility of washing status through the window.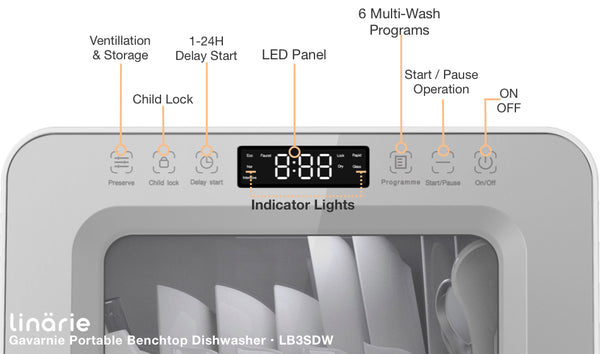 Time Delay
• Time delay allows you to set the portable dishwasher so that it will run in the future. With the Gavarnie Portable Benchtop Dishwasher LB3SDW, you can set the delay start from 1-24h.

Safe Environment
• Child safety lock and auto power off for leakage prevention 

Quiet Operation
• Noise levels of <58dB so it doesn't disturb your environment
IMPORTANT
• Gavarnie Portable Benchtop Dishwasher LB3SDW is compatible with ceramic, glass, and stainless-steel tableware.
• All dishwashers are strictly tested at the factory before they are shipped. It is normal to have a small amount of residual water after testing. If you have any questions, please feel free to contact us at hello@linarie.com.au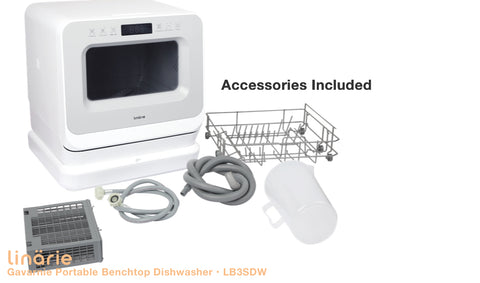 Gavarnie Portable Benchtop Dishwasher • LB3SDW | Watch the full video HERE
Bottom Line
This article aims to answer your questions about portable dishwasher. You can buy the Gavarnie Portable Benchtop Dishwasher LB3SDW on Linärie Appliances. We provide eye-catching aesthetics with high-performance portable dishwasher with 30-month warranty and various appliances to elevate your kitchen.
Looking to Speak with our Product Expert?
Pick a suitable time HERE for our product expert to give you a ring.
30-Month Manufacturer's Warranty
A 24-month parts and labour Manufacturer's warranty is included, giving you that extra peace of mind. Extend your warranty to 30-month when you register your product HERE.
About Linärie Appliances
Powered by innovative technology that combines premium quality with affordability, Linärie Appliances seamlessly integrates cutting-edge technology and French-inspired elegant designs, to elevate comfort in your kitchen and transform your cooking experience into memorable moments. Delivering anywhere in Äustralia.
---
0 comments