Retro Bottom Freezer Refrigerator: A Complete Buying Guide
Posted by Linärie Appliances on
A bottom mounted freezer fridge features its freezer on the bottom of the appliance and comes with several benefits.
The refrigerator is one of the most essential appliances in your kitchen and choosing the right one is crucial. Used every day to keep your food and beverages fresh at a safe temperature, it is helpful to choose one that fits your lifestyle and matches the kitchen atmosphere of your home.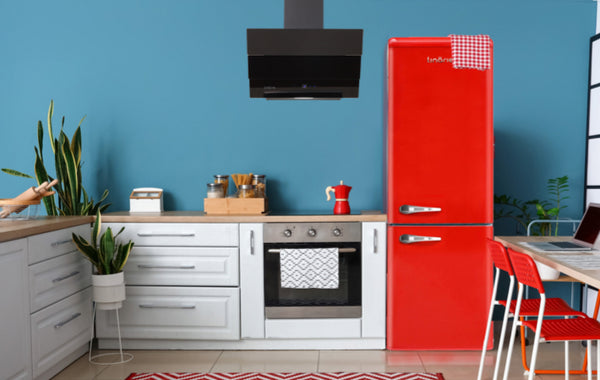 What is a Retro Fridge?
Retro fridge carries a sleek, colorful, retro 1950's look with all the functionalities of a modern fridge. The perfect combination of a pop color with the authentic silver trim, makes Linärie's Annecy Retro Bottom Freezer Refrigerator is a statement piece to any kitchen. 
What to Look for in a Retro Bottom Freezer Refrigerator?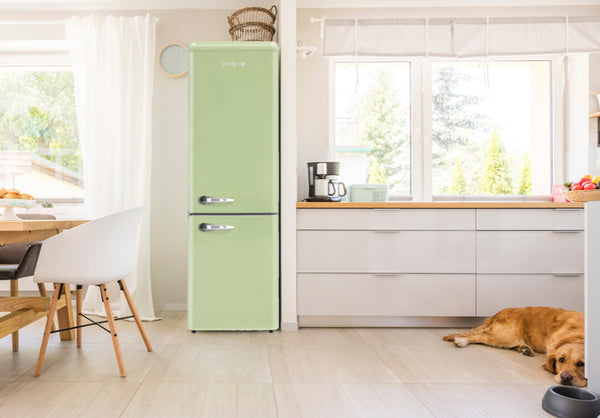 Design & Shape
Annecy Retro Fridge exhibits rounded edges, premium silver trim details, stamped metal body an insulated side panels to help maintain the designated temperature with precision. Featuring a spacious telescopic fruit and vegetable drawer to keep the freshness of stored items for longer. 3 adjustable tempered glass shelves to allow maximum use of internal space making it easier access to fresh ingredients and beverages.
Eclectic Color & Glossy Finnish
Annecy Retro Fridge comes in a variety of eclectic colors and a smooth glossy finish, adding an elegant feel to match any kitchen design or concept.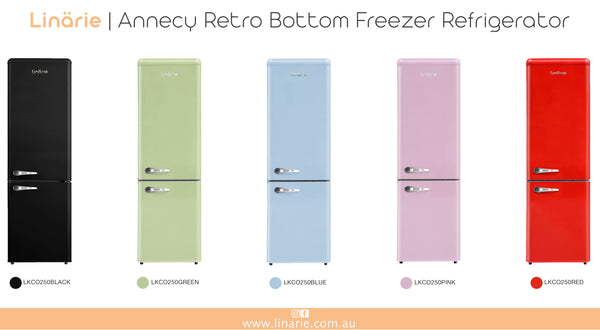 Size & Capacity
Free-standing installation, the Linärie Annecy Retro Bottom Freezer Refrigerator has a total capacity of 242L; out of which 175L is of the refrigerator capacity and 67L of freezer capacity.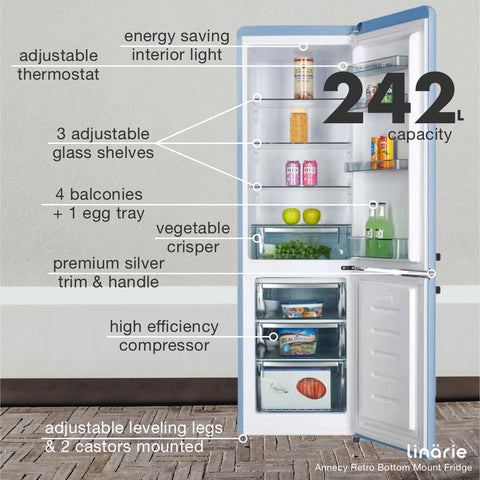 Quiet Operation
Operating at <42db noise level, Annecy Retro fridge does not disturb during your kitchen activities.
Energy-Efficiency
For better visibility, Linärie Annecy Retro Bottom Freezer Refrigerator is equipped with energy efficient LED lights in all corners of the fridge. Enhanced with a high efficiency compressor, Annecy is rated N/ST for use in sub-tropical conditions to stay cool in the Australian climate.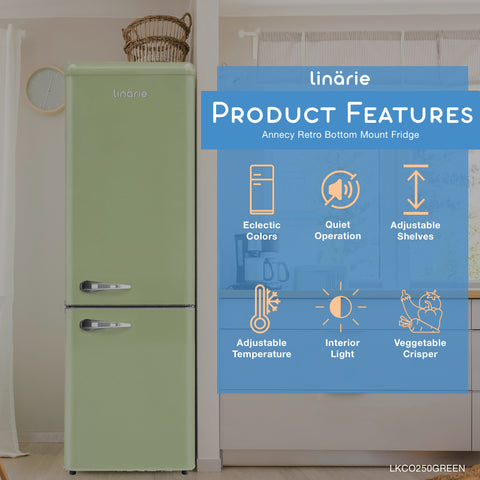 Advantages vs Disadvantages of a Linärie's Annecy Retro Bottom Freezer Refrigerator
 Advantages

 

Disadvantages

• Refrigerator at eye level

• Space-Saving

• Vegetable crispier
• High-quality silver handles

• Easy of use and to clean

• Separate freezer compartment

• Heavier items on the bottom

• Children can reach the freezer

• Bending down for ice 
What kind of kitchen a Retro Bottom Freezer Refrigerator fits best?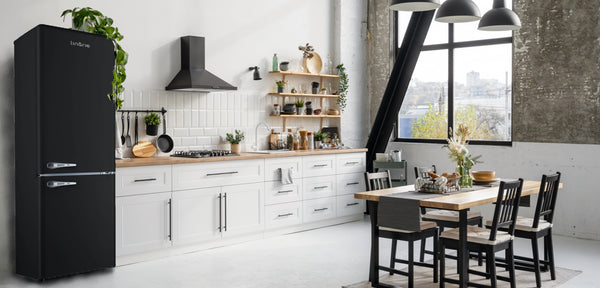 Linärie's Annecy Retro Bottom Freezer Refrigerator adds a pop of color to a range of kitchen styles. Whether it's adding a bold quirk to country kitchens or retro-flair to modern kitchens, Linärie 50's style retro fridge combines the eye-catching aesthetics with high-performance technology that can seamlessly fit into all spaces.
INSTALLATION
Download the User Manual & SpecSheet HERE
Bottom Line
This article aims to answer your questions about retro top and top fridges. If you're looking to buy a retro fridge, check out the range of premium quality retro fridges, mini fridge and mini bar available on Linärie Appliances. We provide eye-catching aesthetics with high-performance technology retro fridges with 30-month warranty and various appliances to elevate your kitchen.

Looking to Speak with our Product Expert?
Pick a suitable time HERE for our product expert to give you a ring.
30-Month Manufacturer's Warranty
A 24-month parts and labour Manufacturer's warranty is included, giving you that extra peace of mind. Extend your warranty to 30-month when you register your product HERE.
About Linärie Appliances
Powered by innovative technology that combines premium quality with affordability, Linärie Appliances seamlessly integrates cutting-edge technology and French-inspired elegant designs, to elevate comfort in your kitchen and transform your cooking experience into memorable moments. Delivering anywhere in Äustralia.
---
1 comment