Induction Cooktops: how to properly care, maintain and clean?
Posted by Linärie Appliances on
The cooktop is one of the most essential appliances in your kitchen and choosing the right one is crucial. Used nearly every day to prepare your meals, it is helpful to choose a cooktop that fits your lifestyle and matches the kitchen atmosphere of your home.
Many people choose induction cooktops for all the advanced features and benefits they have: specially when it comes to how easy they are to clean.

What is the advantage of induction cooktops?
Induction technology introduces higher energy efficiency, faster heat-up times, and safer kitchen environment. Induction cooktop transfers heat through electromagnetic field that is generated by the coil beneath the cooktop into conductive cookware with virtually no heat emanating from the element itself.  The direct contact between the warm cookware and the cooktop glass, is the reason why the glass eventually becomes hot.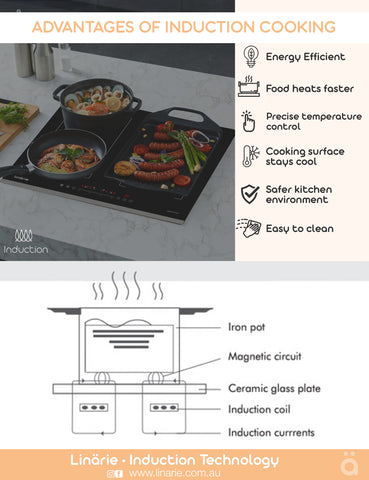 How to clean the induction cooktop?
Although easy to clean, the induction cooktop must be cleaned regularly. Dirt can lead to damage or the buildup of undesired odor.
Power Off: Make sure the induction cooktop is powered off and that the cooktop panel has fully cooled off. Give enough time in between cooking and cleaning to ensure the cooktop is completely cool prior to cleaning.
Remove Residue: With a clean and soft rag or wet wipes, wipe the surface of the induction cooktop to remove all the food residue and oil stains from its surface.

Cleaning: Prepare the neutral detergents/soap, soft rag and brush you will use to clean the cooktop. Always read the label to check if your cleaner is suitable for induction cooktops. Gently clean the air outlet of the induction cooktop as it accumulates grease and dust over time. Gently wipe off stain on the surface, or use a soft brush soaked with neutral detergent to clean the stubborn stains.
Warning: Most induction cooktop is not waterproof, and damp or water damage may cause short-circuit failure—it is strictly forbidden to rinse the cooktop with water.
Detail Cleaning: Clean the corners and gaps of the induction cooktop. Use a neutral soap and soft brush to gently clean along the corners of the induction cooktop; remove the oil stains and wipe the corners of the induction cooktop with a rag to finalize. Be sure to never leave cleaning residue on the cooktop; it may cause damage and leave unremovable stains.
How to maintain and properly care for the induction cooktop?
Installation: For the longevity of your appliance, it is crucial to properly install by following all the guidelines in the user manual. For detailed specifications about the appliance, please check the respective spec sheet.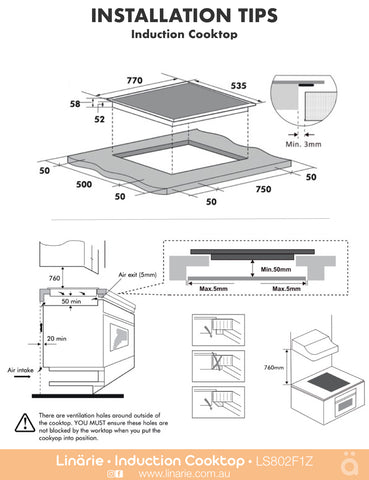 Air Inlet and Outlet must be unobstructed: Make sure the Induction cooktop is well ventilated and the air inlet and outlet are not blocked. There are ventilation holes around outside of the cooktop. YOU MUST ensure these holes are not blocked by the worktop when you put the cooktop into position.
Electrical Earthing: It is most important that this basic safety requirement is present and tested regularly and, where there is any doubt, the household wiring system should be inspected by a qualified electrician.
Induction-Compatible Cookware: Look for the 'induction-compatible' symbol at the bottom of the cookware or use a magnet to test if it sticks to the bottom of the cookware; if it sticks, it's compatible.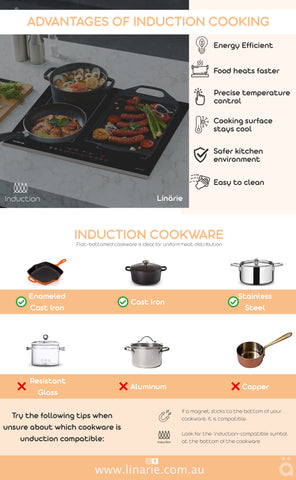 Call a qualified electrician to install, dismantle and repair the cooktop, or send it to the nearest maintenance place.
Waterproof: Most induction cooktop is not waterproof, and damp or water damage may cause short-circuit failure. Being mindful of water spills and avoiding moisture and steam will help to ensure safety and to prolong the longevity of the induction cooker.
Induction Cooker is a magnetic object: Avoid placing ferromagnetic objects such as knives, forks, bottle caps, watches, and other items that are easily affected by magnetic fields on the cooktop panel when it is on or off.
Bottom Line
This article aims to answer your questions about induction cooktops. If you're looking to buy a cooktop, check out the range of premium quality induction and ceramic cooktop available on Linärie Appliances. We provide quality and high energy-efficiency induction cooktop with 30-month warranty and various appliances to elevate your kitchen.
Looking to Speak with our Product Expert?
Pick a suitable time HERE for our product expert to give you a ring.
30-Month Manufacturer's Warranty
A 24-month parts and labour Manufacturer's warranty is included, giving you that extra peace of mind. Extend your warranty to 30-month when you register your product HERE.
About Linärie Appliances
Powered by innovative technology that combines premium quality with affordability, Linärie Appliances seamlessly integrates cutting-edge technology and French-inspired elegant designs, to elevate comfort in your kitchen and transform your cooking experience into memorable moments. Delivering anywhere in Äustralia.
---
0 comments