Induction Cooktops: How to use FlexZone & activate the Booster Function?
Posted by Linärie Appliances on
The cooktop is one of the most essential appliances in your kitchen and choosing the right one is crucial. Used nearly every day to prepare your meals, it is helpful to choose one that fits your lifestyle and matches the kitchen atmosphere of your home.
 
Many people choose induction cooktops for all the advanced features and benefits they have. So, here's a detailed guide on what are the FlexZones and how you can make the most of using them.
How induction cooktops work?
Induction technology introduces higher energy efficiency, faster heat-up times, and safer kitchen environment. Induction cooktop transfers heat through electromagnetic field that is generated by the coil beneath the cooktop into conductive cookware with virtually no heat emanating from the element itself.  The direct contact between the warm cookware and the cooktop glass, is the reason why the glass eventually becomes hot.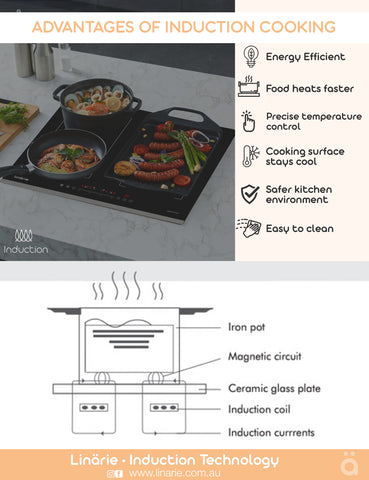 What is the induction cooktop FlexZone?
Linärie's built-in induction cooktop is designed with two, three, four or five independently powerful cooking zones, making them a perfect choice for individuals, small and large families.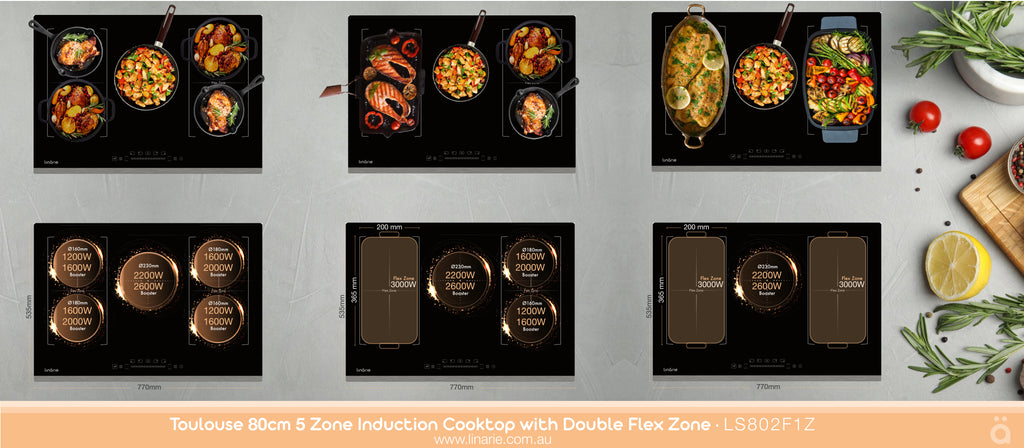 FlexZone technology brings innovation to your kitchen so that you can enjoy greater flexibility when preparing your meals. When activated, the FlexZone combines 2 cooking zones to create a larger cooking space for a BBQ grill plate area or a zone for two pans, customizing to your needs. The zones can automatically detect any movement of cookware with the movement sensor.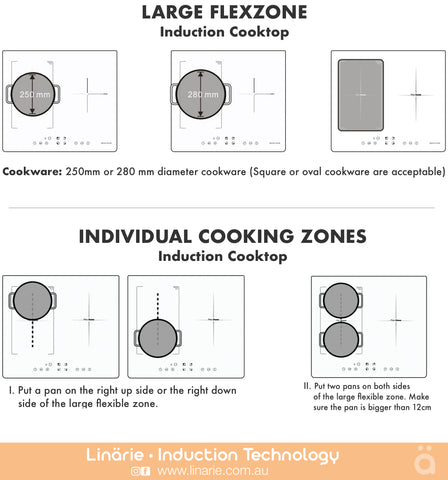 We strongly recommend utilizing the large FlexZone as illustrated in the images above. Failure to do so might negatively impact the heating performance of the cooktop.

Induction Cooktop: 9 Power Levels for Cooking
Nine different power levels—from a slow simmer to a raging boil—allow you to have full autonomy to control the amount of heat per each individual zone and as a single FlexZone.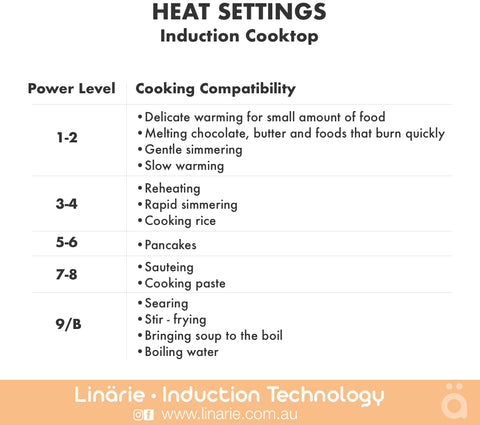 The settings above are guidelines only. The exact setting will depend on several factor, including your cookware and the amount you are cooking. Experiment with the induction cooktop to find the settings that best suit you.

What is the Booster Function in the induction cooktop?
Extra power for faster heating and full freedom while cooking. The Booster Function is meant to increase the output by fifty percent and reduce the cooking time by thirty-five percent due to smart power consumption.

Important: Boost will operate for maximum of 5 minutes. After 5 minutes, it will automatically revert to power level 9.

Bottom Line
This article aims to answer your questions about induction cooktops. If you're looking to buy a cooktop, check out the range of premium quality induction and ceramic cooktop available on Linärie Appliances. We provide quality and high energy-efficiency induction cooktop with 30-month warranty and various appliances to elevate your kitchen.
Looking to Speak with our Product Expert?
Pick a suitable time HERE for our product expert to give you a ring.
30-Month Manufacturer's Warranty
A 24-month parts and labour Manufacturer's warranty is included, giving you that extra peace of mind. Extend your warranty to 30-month when you register your product HERE.
About Linärie Appliances
Powered by innovative technology that combines premium quality with affordability, Linärie Appliances seamlessly integrates cutting-edge technology and French-inspired elegant designs, to elevate comfort in your kitchen and transform your cooking experience into memorable moments. Delivering anywhere in Äustralia.
---
0 comments